TerraConcepts models and simulates
combat, C4ISR, and commercial systems in the
Air, Cyber, Land, Maritime, and Space Domains.
We do this in a Digital Mission Engineering Environment (DMEE™)
to efficiently and rapidly generate high-quality data for analysis and visualization.
Mission, Vision, and Guiding Principles
Mission
Support our Nation's warfighting and intelligence professionals in their efforts to deter and defeat strategic competitors; counter and defeat asymmetric threats and multiply our competitive advantage.
Vision
To be a trusted partner and known for our innovative application
of digital engineering solutions.
Guiding Principles
Leadership
Teamwork
Dignity
Golden Rule
Learn More
Capabilities
Multi-Domain Modeling, Simulation, Analysis, & Visualization (MSAV)
We model and simulate combat, ISR, and commercial systems.
Air
Cyber
Land
Maritime
Space
Digital Mission Engineering Environment (DMEE™)
Integrated suite of stable COTS and open source physics-based MSAV applications.
Build and operate system digital twins
Geospatial digital twins: global virtual operating environments
Live, Virtual, Constructive & Gaming
Data generation for AI/ML application development, training, and testing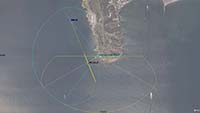 Multi-Functional
Multi-Mission
Communications
Counter-Unmanned Systems (C-UxS)
Cyber
Electronic Warfare (EW)
Force Protection (FP)
Imagery Intelligence (IMINT)
Intelligence, Surveillance, and Reconnaissance (ISR)
Missile Defense
Navigation Warfare (NAVWAR)
Signals Intelligence (SIGINT)
Unmanned Systems (UxS)
Leadership
Ray Etter
President / Chief Engineer
Learn More
SAM Information
Business Type

Limited Liability Company (LLC)

State of Incorporation

Commonwealth of Virginia

Socioeconomic Category

Small Business
Veteran-Owned Small Business (VOSB)
Service-Disabled Veteran-Owned Small Business (SDVOSB)

CAGE Code

48RP9

NAICS Codes

541330 - Engineering Services (Primary)
541690 - Other Scientific and Technical Consulting Services
541990 - All Other Professional, Scientific, and Technical Services
541712 Exception C - R&D in Space Vehicles and Guided Missiles
541715 - Research and Development in the Physical, Engineering, and Life Sciences (except Nanotechnology and Biotechnology)

Unique Entity ID

DPAFKSKKFBK5